How to practice self-care going into 2022
JOIN US LIVE ON THE STEREO APP: WEDNESDAYS 4:20 PM EST
It's been a long time since I did this and that is an indication of how important this piece is. I have started quite a few blogs here on my website. I have posted several long form social media posts on FcBk, Display, Instagram and even Vlogs for days on TikTok. But taking time to write out my thoughts, edit and finalize a blog post is something I have not done consistently in a very long time. Quite possibly since I published my book. Which makes total sense because it was a doozy and I've been trying to duplicate the process ever since. Which again is why the particular post is so important for me to share with others, but also to express in writing for myself. I don't know about you, but when I make a major mental shift, life change, or adjust my way of doing things it is most effective when I write it down. Also studies have proven that the best way to accomplish a goal is to allow others to hold you accountable. That's the benefit of being a public figure when you're an introvert and don't have a large circle of friends or social clubs.
Most of the writers I know and have interviewed struggle to stay focused with their writing. They call it writers block when the words and characters stop flowing out of the pen and on to the page freely as if they are coming from some other force than inside their brain. I'm challenging this way of thinking for myself and all other creators as of right now.
If you find this post interesting and/or helpful, check back often as I update it to completion. My good friend Damian always says, "anything worth doing is worth doing poorly." Ironically I thought that, just a few minutes ago and as I was going to make one more edit, I accidently hit publish. Which absolutely confirmed what I was thinking and forced me into doing what I knew I needed to do. I want to share with you how I have come to realize, proven to myself, and then reconfirmed that writing these blog posts, doing daily or weekly podcasts and yes even publishing a book is a huge self-care investment and yields great reward. So many of the things I discuss today on the show relate to this. You can apply them of course to any industry, level or lifestyle. But hopefully I'm inspiring and helping at least a few people to go where I've gone and do what I've done. After all, it's just not rocket science. But we don't know that until someone who knows how shows us and unfortunately those of us who know how are sometimes too caught up, busy, selfish, greedy and etc. etc. etc. to show others how.
When we talk about self-care, you will hear me explain how serving others serves you.
Tune in every Wednesday at 4:20 pm EST LIVE.
Because you made it this far, I appreciate you and you deserve all the life hacks available, here's an article on how you can add 50 free self care activities into your routine.
Listen to the #LivingSugarFreeLIfestyle Show #AITM podcast LIVE on the Stereo App every Wednesday at 4:20 pm EST. This Wednesday we're covering 25 things you can do right now and going forward for your sustainability and self-care maintenance. But if you missed it, it's okay. You can catch it on any of your favorite podcast platforms.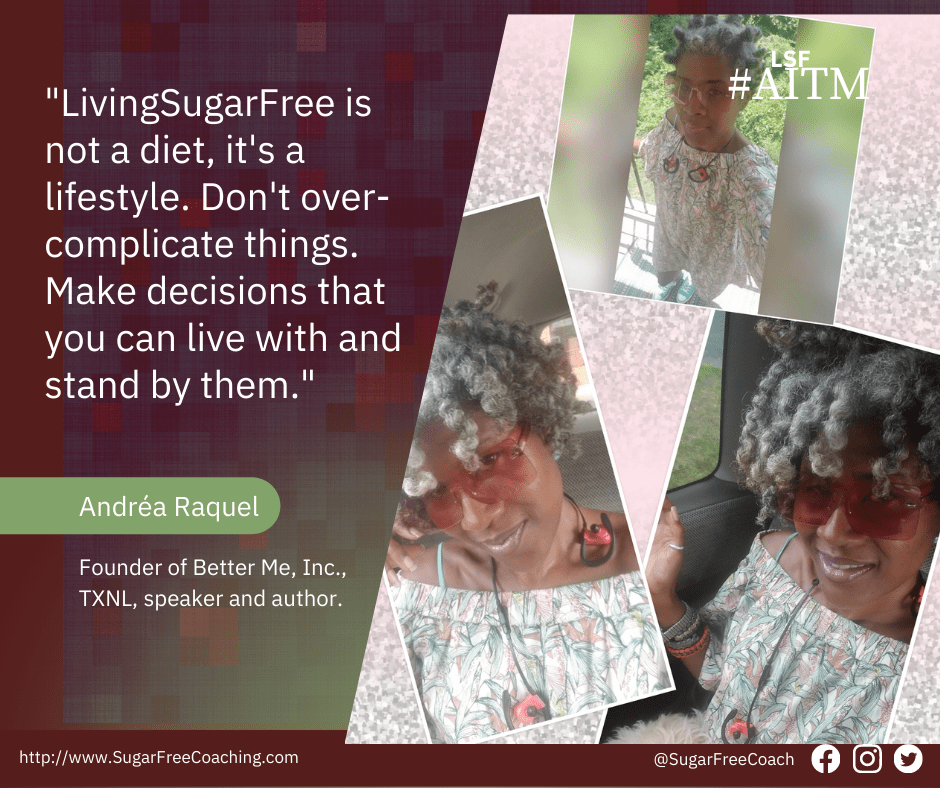 It's day 65!!!!!!!!!!!!! That is something to celebrate.
Today on the
#LivingSugarFreeLifestyle
Show
#AITM
LIVE podcast we're celebrating all of you who've been on this
#90DayChallenge
journey with us since September 7th (click to engage on #LivingSugarFree sweetheart's Facebook group post).